Notice:
Ticket refund/exchange is not possible for this event once the purchase is made. In the event of not being able to attend due to personal reasons, the situation shall be dealt with by customers themselves. Sorry about the inconvenience caused and thanks for your understanding.
Pre-sale Timeline
10AM / 24 JAN – 10AM / 27 JAN | American Express® Card Members Exclusive Pre-sale
10AM / 27 JAN – 10AM / 3 FEB | American Express® Allotment
10AM / 27 JAN – 10AM / 28 JAN | Live Nation WeChat Pre-sale
10AM / 28 JAN | Public Pre-sale
American Express Exclusive Ticketing Channel:
https://en.damai.cn/event/tickets_173648/
Live Nation WeChat Pre-sale:
https://piao.damai.cn/170419.html
Live Nation WeChat Pre-sale: Please follow Live Nation WeChat to get the pre-sale code. During the Live Nation WeChat Pre-Sale Period, the pre-sale code can be used to make priority booking on Damai.cn. Tickets are available while stocks last.
Show Information
Troye Sivan: The Bloom Tour Live in Shanghai 2019
Pop prince Troye Sivan is bringing his "The Bloom Tour" to Shanghai and is set to perform at Mercedes-Benz Arena on 22 Apr, 2019, following the release of his critically acclaimed sophomore album "Bloom".
Tickets to Troye Sivan 2019 Live in Shanghai start from RMB 380 will be available on Jan 28 (Monday) at 10 am.
Tickets to Troye Sivan 2019 Live in Shanghai start from RMB 380 will be available for public at Damai.cn and via Damai ticket hotline 1010-3721 on Jan 28 (Monday) at 10 am. Card Members of American Express®, the tour's exclusive presale partner, can purchase tickets before the general public beginning on Jan 24 (Thursday) at 10 am through Jan 27 (Sunday) at 10 am. Live Nation members can also pre purchase tickets on Jan 27 (Sunday) at 10 am through Jan 28 (Monday) at 10 am, for details, please visit Live Nation and American Express® WeChat and Weibo.
About Troye Sivan
Born in Johannesburg, South Africa in 1995, Troye Sivan was a celebrated child star in his adopted hometown of Perth, Australia. Home-schooled, Troye began singing and acting at a young age, but his biggest break came when he appeared as a young Wolverine in 2009's X-Men Origins: Wolverine.
As a child of the digital age, Troye launched his YouTube channel with videos of musical performances, originals and cover songs and later began to upload weekly video blogs documenting the minutia of his teenage life in Perth which quickly garnered a loyal international audience.
Troye also showcases his acting talents in the 2018 film, Boy Erased, alongside award-winning stars Nicole Kidman and Russell Crowe.
His debut album, 2015's Blue Neighbourhood, introduced him to the pop mainstream, landing in the Billboard Top Ten with the singles "Wild" and "Youth" In early 2018, he issued the single "My My My!", which soon went platinum in Australia and entered the U.S. Top 100. Additional singles "Bloom" and the Ariana Grande-assisted "Dance to This" followed.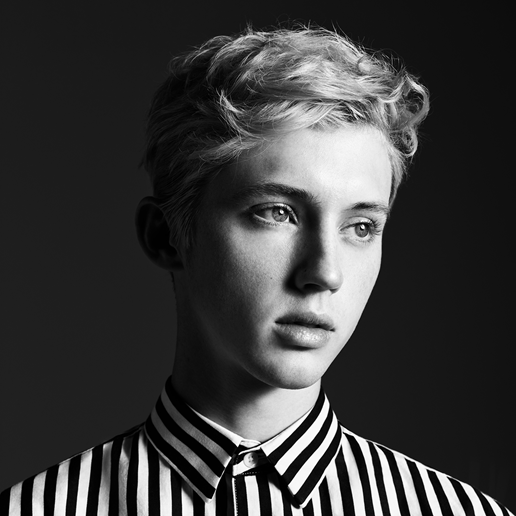 About Live Nation Ltd
Live Nation Entertainment (NYSE: LYV) is the world's leading live entertainment company comprised of four market leaders: Ticketmaster, Live Nation Concerts, Live Nation Media & Sponsorship and Artist Nation Management. Live Nation currently operates across 10 countries and regions in Asia including China, Hong Kong, Indonesia, Japan, Malaysia, Philippines, Singapore, South Korea, Taiwan and Thailand.
About American Express
American Express is a global services company, providing customers with access to products, insights and experiences that enrich lives and build business success.
Since 1997, American Express has partnered with a select group of leading banks and financial institutions around the world to issue American Express-branded products and acquire merchants on to the American Express merchant network. By leveraging its partnerships, global infrastructure and the powerful appeal of the brand, American Express has gained even broader reach for its network worldwide.
What payment methods do you have?
Usually, we provide payment methods as follows, but for different performances, different sales policies, please refer to the notice of each performance.

Online payment methods:
1、Online banking of many Chinese banks (both debit card and credit card)
2、Payment platform: ALIPAY, Wechat scan transfer
3、Foreign cards: Master Card, Visa, JCB and American Express.

Offline payment methods:
Also, you can come to our office to buy directly, click here to check our branches' address.
Pre-sale & On sale
When tickets are on pre-sale,that means customers can pay for reservation only, and when tickets become on-sale, the physical tickets will be issued, and we will arrange the seats in a priority sequence of paying successfully. If there are any tickets left after that, customers can buy directly then.
For some big events, seat map cannot be issued when tickets are on pre-sale and since tickets quantity depends on organizers or venues, sometimes the reservation might be canceled, when that happens, we have to arrange refund work to those who have paid successfully. However, we will always try our best to satisfy our customers' demand.
Can I choose a seat?
Usually, seat plan will be issued after tickets are on-sale. So when tickets are accepting reservation, customers can only pay for the tickets, and when tickets becomes on-sale, our staff will arrange the seats in a priority sequence of paying successfully.
If there is "buy on map" button, then you can choose the seat from the available seats.
Will my seats be together?
Usually, tickets purchased in one order will be seated together.
I live abroad, how can I buy and get my tickets? Can you deliver tickets to abroad?
For safety reasons, we now do not provide delivery to abroad service. We suggest customers choose "pick up by myself"when purchasing online, and then come to specified Damai branch to collect tickets before the show.
Can I ask my friend to collect tickets on behalf me?
Yes, but your friend is required to show the following documents:
1、Your passport and the credit card you use when purchase;
2、Your friend's ID or passport.
3、Our staff will contact you to confirm again before hand over tickets.