Cup of China ISU Grand Prix of Figure Skating 2017 will be held at
Capital Indoor Stadium, Beijing from Nov.3 to Nov.5, 2017
.
Attention:
If you choose Pick- up at Damai office, you need to come to our Beijing office to pick up the tickets, NOT the venue.
Add: 7th Floor, No.32 Building, Dongzhong street, Dongcheng District, Beijing.
Business Hour:Monday-Sunday:9AM-6PM
大麦网北京总部
地址:北京市东城区东中街32号楼7层(东环广场街心花园对面)
营业时间:周一至周日:9:00-18:00
Organized by the International Skating Union and managed by Chinese Skating Association, Cup of China ISU Grand Prix of Figure Skating 2017 is one of the highest-level figure skating series events in the world, which will attract all top figure skaters from different countries. The Grand Prix is hosted in six countries including the United States, Canada, China, France, Russia and Japan. The first Cup of China was hosted in 2003 and it has been organized successfully in the successive 14 years. In 2017, Cup of China will be held at the Capital Indoor Stadium on November, 3-5. This year the participating teams are highlight enough. Four projects are participated by world champions. Moreover, European Champions, Four Continents Champions and World Youth Champions will also compete on COC, which is absolutely worth expecting.

Figure Skating originated in Holland in the 13th century and was developed rapidly in European and American countries such as France, the United States, Canada and Russia etc. Nowadays, an increasing number of Chinese audience begin to love figure skating .Integrated with graceful dances, breathtaking techniques and beautiful music, the skaters will show their superb technical skills and strong artistic representation, which will be a grand visual and audio feast to the audience.

Match Name: Audi Cup of China ISU Grand Prix of Figure Skating 2017
Date: November 03 - November 05, 2017 (Friday – Sunday)
Organizer: International Skating Union (ISU)
Co-organizer: Chinese Skating Association
Event Promotion: Beijing Malon Sports & Entertainment Inc.
Location: Capital Indoor Stadium, Beijing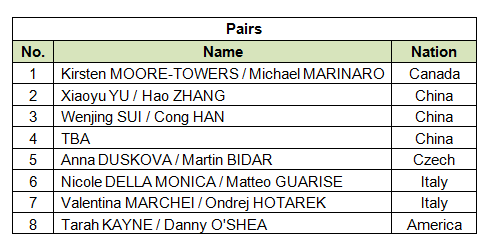 What payment methods do you have?
Usually, we provide payment methods as follows, but for different performances, different sales policies, please refer to the notice of each performance.

Online payment methods:
1、Online banking of many Chinese banks (both debit card and credit card)
2、Payment platform: ALIPAY, Wechat scan transfer
3、Foreign cards: Master Card, Visa, JCB and American Express.

Offline payment methods:
Also, you can come to our office to buy directly, click here to check our branches' address.
Pre-sale & On sale
When tickets are on pre-sale,that means customers can pay for reservation only, and when tickets become on-sale, the physical tickets will be issued, and we will arrange the seats in a priority sequence of paying successfully. If there are any tickets left after that, customers can buy directly then.
For some big events, seat map cannot be issued when tickets are on pre-sale and since tickets quantity depends on organizers or venues, sometimes the reservation might be canceled, when that happens, we have to arrange refund work to those who have paid successfully. However, we will always try our best to satisfy our customers' demand.
Can I choose a seat?
Usually, seat plan will be issued after tickets are on-sale. So when tickets are accepting reservation, customers can only pay for the tickets, and when tickets becomes on-sale, our staff will arrange the seats in a priority sequence of paying successfully.
If there is "buy on map" button, then you can choose the seat from the available seats.
Will my seats be together?
Usually, tickets purchased in one order will be seated together.
I live abroad, how can I buy and get my tickets? Can you deliver tickets to abroad?
For safety reasons, we now do not provide delivery to abroad service. We suggest customers choose "pick up by myself"when purchasing online, and then come to specified Damai branch to collect tickets before the show.
Can I ask my friend to collect tickets on behalf me?
Yes, but your friend is required to show the following documents:
1、Your passport and the credit card you use when purchase;
2、Your friend's ID or passport.
3、Our staff will contact you to confirm again before hand over tickets.