Creative Humor Physical Theatre - Papirus will be held at NCPA-Multi-functional Theatre,Beijing from Aug.23 to Aug.27, 2017
.
About
Credits
Author & Director: Iolanda Llansó
Cast
Claudio Levati
Cristina Aguirre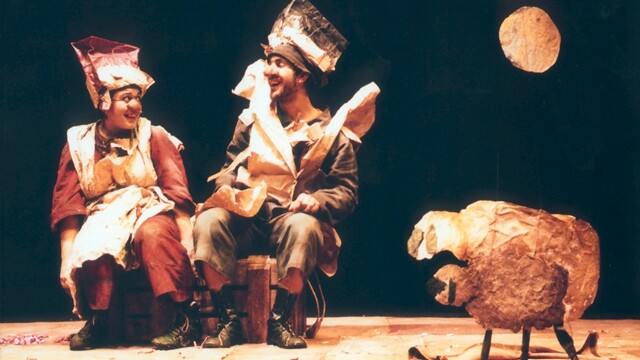 FETEN 2005: Awarded Best Show and Best Direction
Warm and touching, this play tells the story of a piece of magical paper.
Papirus is dedicated to all those who never stop dreaming. In the middle of nowhere, a man, walks, alone, tired, and his only companions are a large suitcase and a big piece of paper. In the middle of nowhere, a woman, weakened, looks for a place to sleep. Soon, each of them will discover the presence of the other.
How should we react to a stranger? Do we choose to become complicity or else look threateningly at the other? How to convey our own intimacies and dreams? How to overcome our fears of the past? Without any words, through gestures, shapes and painting, these two foreigners speak and establish a game full of curiosity, generosity and hope where sharing becomes a way of communication. This is a show about the magic that comes when we allow ourselves to communicate with the heart.
What payment methods do you have?
Usually, we provide payment methods as follows, but for different performances, different sales policies, please refer to the notice of each performance.

Online payment methods:
1、Online banking of many Chinese banks (both debit card and credit card)
2、Payment platform: ALIPAY, Wechat scan transfer
3、Foreign cards: Master Card, Visa, JCB and American Express.

Offline payment methods:
Also, you can come to our office to buy directly, click here to check our branches' address.
Pre-sale & On sale
When tickets are on pre-sale,that means customers can pay for reservation only, and when tickets become on-sale, the physical tickets will be issued, and we will arrange the seats in a priority sequence of paying successfully. If there are any tickets left after that, customers can buy directly then.
For some big events, seat map cannot be issued when tickets are on pre-sale and since tickets quantity depends on organizers or venues, sometimes the reservation might be canceled, when that happens, we have to arrange refund work to those who have paid successfully. However, we will always try our best to satisfy our customers' demand.
Can I choose a seat?
Usually, seat plan will be issued after tickets are on-sale. So when tickets are accepting reservation, customers can only pay for the tickets, and when tickets becomes on-sale, our staff will arrange the seats in a priority sequence of paying successfully.
If there is "buy on map" button, then you can choose the seat from the available seats.
Will my seats be together?
Usually, tickets purchased in one order will be seated together.
I live abroad, how can I buy and get my tickets? Can you deliver tickets to abroad?
For safety reasons, we now do not provide delivery to abroad service. We suggest customers choose "pick up by myself"when purchasing online, and then come to specified Damai branch to collect tickets before the show.
Can I ask my friend to collect tickets on behalf me?
Yes, but your friend is required to show the following documents:
1、Your passport and the credit card you use when purchase;
2、Your friend's ID or passport.
3、Our staff will contact you to confirm again before hand over tickets.