Notice:
Ticket refund/exchange is not possible for this event once the purchase is made. In the event of not being able to attend due to personal reasons, the situation shall be dealt with by customers themselves. Sorry about the inconvenience caused and thanks for your understanding.
Attention:
If you choose "self-pickup at Damai office" option, which means you need to come to our Shanghai office to pick up the tickets,
NOT
the venue.
Here is our office address:
Shanghai Branch: 1st Floor, Shenxin Building, No.200, Ninghai East Road, Huangpu District, Shanghai.
Business Hour: Monday-Sunday: 9AM-6PM.
大麦网上海分部
地址:上海市黄浦区宁海东路200号申鑫大厦1楼
营业时间:星期一至星期日:9:00-18:00
Ticket description
VIP package: 2048 yuan: Concert +Fan Meeting(including limited postcards + high-five tickets).
VIP discount: 2048 yuan (980 yuan Fan Meeting+1280 yuan concert)
Shanghai limited edition AKB48 Group postcard 200 yuan:
Including a high-five coupon.
Special reminder: all purchased and given postcards contain a high five coupon.
AKB48 Group Asia Festival 2019 opens in Shanghai, classic songs, limited cooperation, exclusive stage that cannot be missed! Seven sister groups perform together, limited cross group performance AKB48 classic songs, set off memories to kill more fresh sense. Girls fantasy dream, friendship declaration between girls, comrades in arms to encourage each other, love when the sweet confession, these with sweet colors like candy, will be presented on the stage one by one! [AKB48 Group Asia Festival 2019 in SHANGHAI] gathers the efforts and enthusiasm of Asian girl idols, and lights up dreams and hopes in Shanghai.
【Fan Meeting】
The seven groups set out separately, which is the exclusive welfare time for fans of each group. The welfare of happiness, the moment of dreams with heartbeat! Coming across the sea to meet you. Love deeply and live up to expectations. Idol's efforts and fans' expectations, idol's affection and fans' efforts are integrated here.
【Asia Festival Concert】
Fans at the AKB48 Group Asia Festival 2019 in SHANGHAI will see their favorite idols, as well as their classic singing and dancing. The idols' neat dancing, sweet singing and energetic stage performance will bring an audio-visual feast for their fans
【Shanghai limited edition AKB48 Group postcard】
A Shanghai limited edition AKB48 Group postcard includes a single high-five coupon. This time, there are 8 kinds of pictures for the postcards, which are distributed randomly.
As the founder of the girls' development Group, AKB48 Group is an idol that fans can meet. In order to appreciate the fans for growing up with them together, the AKB48 Group Asia Festival 2019 in SHANGHAI has set up a high-five session. The participating members will stand in a row and the fans can high-five their idols one by one to feel their enthusiasm and love. The high-five realizes the cross-border close interaction, which is not only the idol's appreciation to the fans, but also the fans' tribute to the idols, paying tribute to their hard work. This kind of interaction is full of sincerity.
Special tip - high five etiquette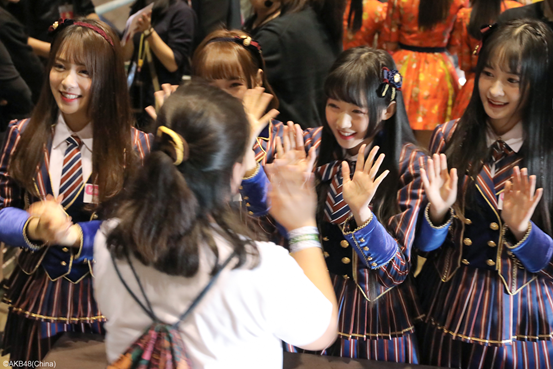 In order to ensure everyone's participation experience, please remember the following high-five etiquette:
The members who participate in the event will be arranged in a row. The audience who purchase the tickets should listen to the instructions of the on-site staff, and then give high-fives to each member and interact with the members one by one, and avoid situations where someone blocks others from queuing and blocks others way forward.
Please turn your phone or audible device to silent mode or turn off the phone after the event starts.
Photography, video and recording are prohibited.
Please do not engage in any other physical contact behavior except high-five interaction in the high-five meeting. Audiences are not allowed to bring sharp knives or objects or ornaments that may cause harm to the group members in the high-five interaction.
Thank you.
AKB48 Group2019 Asian Festival is a series of festival events organizing all groups in Asia by AKB48 Group. Following the "AKB48 Group Asia Festival 2019 in BANGKOK", the ceremony came to Shanghai, China, which is the first time that the AKB48 Group has held an Asian Festival event in China. The seven sister groups of AKB48(Akihabara, Tokyo), JKT48(Jakarta), BNK48(Bangkok), MNL48(Manila), Team SH(Shanghai), Team TP(Taipei) and SGO48(ho chi minh) will gather to stage a fantasy show for Chinese fans. Although the sister groups come from different cities and speak different languages, they communicate with each other through music and seriously repay the Chinese fans who have been waiting for so long.
AKB48 Group is not only a sign, but also a culture. As fans' idols, the team members bring positive influence to the fans with their own efforts and growth. Idols are improving and fans are working hard. They grow together and help each other, and strive to be better themselves. The AKB48 Group enables young people from all regions to feel the full positive energy brought by the idols and promote the exchange and integration of cultures in various regions. AKB48 Group 2019 Asian Festival Shanghai Station. This popular Asian fans festival must not be missed you!
What payment methods do you have?
Usually, we provide payment methods as follows, but for different performances, different sales policies, please refer to the notice of each performance.

Online payment methods:
1、Online banking of many Chinese banks (both debit card and credit card)
2、Payment platform: ALIPAY, Wechat scan transfer
3、Foreign cards: Master Card, Visa, JCB and American Express.

Offline payment methods:
Also, you can come to our office to buy directly, click here to check our branches' address.
Pre-sale & On sale
When tickets are on pre-sale,that means customers can pay for reservation only, and when tickets become on-sale, the physical tickets will be issued, and we will arrange the seats in a priority sequence of paying successfully. If there are any tickets left after that, customers can buy directly then.
For some big events, seat map cannot be issued when tickets are on pre-sale and since tickets quantity depends on organizers or venues, sometimes the reservation might be canceled, when that happens, we have to arrange refund work to those who have paid successfully. However, we will always try our best to satisfy our customers' demand.
Can I choose a seat?
Usually, seat plan will be issued after tickets are on-sale. So when tickets are accepting reservation, customers can only pay for the tickets, and when tickets becomes on-sale, our staff will arrange the seats in a priority sequence of paying successfully.
If there is "buy on map" button, then you can choose the seat from the available seats.
Will my seats be together?
Usually, tickets purchased in one order will be seated together.
I live abroad, how can I buy and get my tickets? Can you deliver tickets to abroad?
For safety reasons, we now do not provide delivery to abroad service. We suggest customers choose "pick up by myself"when purchasing online, and then come to specified Damai branch to collect tickets before the show.
Can I ask my friend to collect tickets on behalf me?
Yes, but your friend is required to show the following documents:
1、Your passport and the credit card you use when purchase;
2、Your friend's ID or passport.
3、Our staff will contact you to confirm again before hand over tickets.